TigerTurbo™
TigerTurbo can push, pull, and position up to 840 lbs. This high speed automatic pusher accurately positions material with its steel reinforced belt and operate at up to 180 feet per minute.
Features
Push feed up to 840 lbs using roller tables
Built for industrial environments
Pair TigerTurbo with Cut List Downloading software
Upgrade your controller to TigerTouch
Reduce material waste with Dynamic Optimization software upgrade
Turbo Charge Your Production
High Speed Accuracy
Setting and resetting manual stops is slow and inaccurate. TigerTurbo allows you to push heavy material, up to 840 lbs., quickly and accurately.
Upgrades
Like most TigerStop products, TigerTurbo comes with optional upgrades. These include label printing, touch screen controls, Dynamic Optimization™ nesting software for increasing yield, and so much more.
Easy to Automate
With TigerStop's powerful automation platform, you can quickly and simply automate your existing equipment. You decide how far you want to take it. Manual, semi-automatic, or fully automatic processing, TigerTurbo can do it all.
Easy to Learn
Not everyone can read a tape measure the way you can. TigerTurbo's simple and intuitive controls allow even a novice to cut like a pro in under 10 minutes.
Tables
Style and Design Meet Durability
TigerTurbo tables are pinch free and made out of cold rolled steel. Choose from a wide array of styles and depths including steel roller tables, plastic roller tables, and 10° tilted tables.
Learn More About Tables
Software
The Software You Need to Succeed
Add software to your TigerTurbo now, or years from now. To save on raw material costs and triple productivity, use Dynamic Optimization nesting software.
Dynamic Optimization™
Dynamic Optimization software gives you the best yield by determining the optimal cutting order from your parts list. Improved material yield saves money on raw material and reduces scrap waste. Pair Dynamic Optimization with a laser scanning and defecting pusher foot for even greater throughput.
Cut List Downloading
TigerStop has extensive experience handling work orders and cut list data. Using TigerStop's Cut List Downloading Software, TigerLink 6, you can download cut lists or part lists from your network and send them to your TigerStops using Ethernet cables. You no longer have to use messy paper cut lists.
TigerSet
The TigerSet software upgrade opens up a communication port on your TigerStop so you can use a PC, PLC or Barcode Scanner to control your TigerStop systems. You can also create your own code using TigerStopSDK, TigerStop's open source software development kit, if you have TigerSet.
Dynamic Pack Optimization
Dynamic Pack Optimization gives you the best yield by determining the optimal cutting order from your parts list. Improved material yield saves money on raw material and reduces scrap waste. It allows operators to optimize perfectly, because TigerSaw is doing the math.
TigerTouch™
Any TigerStop can be enhanced with cutting edge touch screen control with TigerTouch. Using the TigerTouch touch screen controller, you can download an infinite number of cut lists, display three cut lists at a time for easy switching between work orders, and view statistics such as job status, remnants, remaining parts, and yield.
Accessories
The Right Tool For Any Job
Configure your TigerTurbo with various pusher foot accessories including the Laser Defecting Pusher Foot, Gangstop, or Spring Buffer.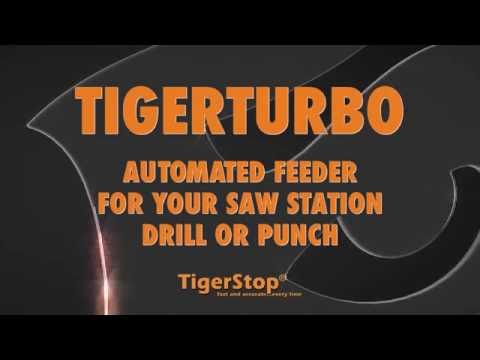 TigerTurbo
TigerTurbo is a high speed automated feeder built for positioning...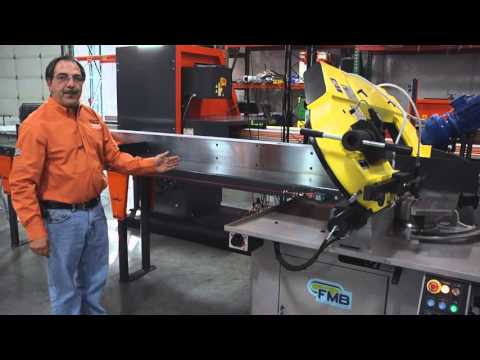 TigerTurbo on Bandsaw
TigerTurbo pairs nicely with bandsaws for your toughest metalworking applications.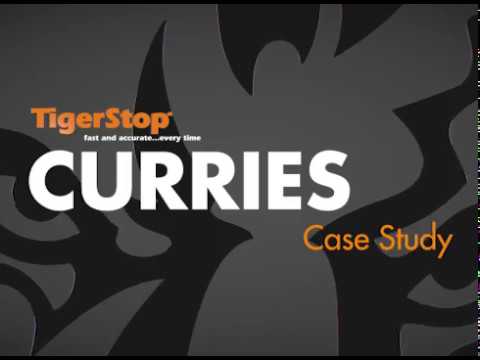 TigerStop for Aluminum Door Manufacturing
Leading steel and aluminum door manufacturer, CURRIES reduces set up...
---
Your Industry, Your Materials, Our Solutions
From local makers to large manufacturing plants, woodworkers to aerospace engineers, we know your business depends on your operators being able to be fast and accurate… every time.