TigerSaw Miter™
TigerSaw Miter™ is a fully automatic push-feed upcut saw system for cutting miter angles on aluminum, copper, fiberglass, wood, plastics, and more.
Features
Mitering Accuracy  +/- .1°
Fully Enclosed Saw Blade
TigerLink 6 Cut List Downloading Software
TigerTouch Touch Screen Control
Turn speed of 3 seconds when moving from
-45° to 45°
Self-Adjusting Front Fence
Unist Brand Lubrication For
Non-Ferrous Material
Label Printing
Dual Dust Extraction In Blade
Compartment + Top Cap
508mm Saw Blade
230V 3-Phase Power
Installation + Training Included
Fully Automated Saw Systems For Cutting Miters
Increase Accuracy
Quickly and accurately cut miters to a tolerance of +/- .1° with TigerSaw Miter. Forget manually measuring, marking material, and positioning a miter saw. TigerSaw Miter accurately push feeds material and cuts parts to the desired length every time.
Reduce Scrap
Raw material costs are extremely high. Operators can't afford to scrap perfectly good material due to inaccuracies and human error. TigerSaw Miter eliminates scrap waste with its fast and accurate positioning and adds dollars back onto your bottom line.
Self-Adjusting Front Fence
The front fence ensures material stays flush against the back fence as it is being fed out of the saw. It automatically moves out of the way of the saw blade so there is never any risk of collision.
Reduce Labor
Many operators will cut all of their straight lengths to size and then re-handle the same material to cut miter angles. Not anymore.
Tables
Style and Design Meet Durability
TigerSaw Miter tables are pinch free and made out of cold rolled steel. Choose from a wide array of styles and depths including steel roller tables, plastic roller tables, and 10° tilted tables.
Learn More About Tables
Software
Total Control at Your Fingertips
Cut List Downloading
TigerStop has extensive experience handling work orders and cut list data. Using TigerStop's Cut List Downloading Software, TigerLink 6, you can download cut lists or part lists from your network and send them to your TigerStops using Ethernet cables. You no longer have to use messy paper cut lists.
TigerSet
The TigerSet software upgrade opens up a communication port on your TigerStop so you can use a PC, PLC or Barcode Scanner to control your TigerStop systems. You can also create your own code using TigerStopSDK, TigerStop's open source software development kit, if you have TigerSet.
TigerTouch™
Any TigerStop can be enhanced with cutting edge touch screen control with TigerTouch. Using the TigerTouch touch screen controller, you can download an infinite number of cut lists, display three cut lists at a time for easy switching between work orders, and view statistics such as job status, remnants, remaining parts, and yield.
Accessories
Customize Your Machine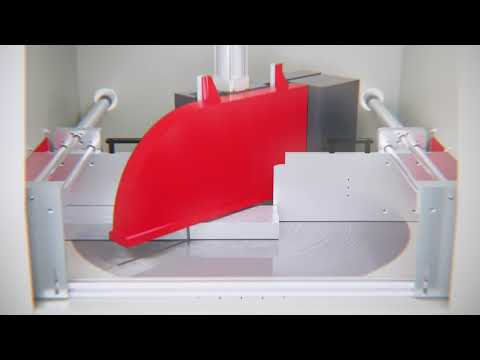 Miter Process Optimization
Miter Process Optimization software internally flips and nests parts for...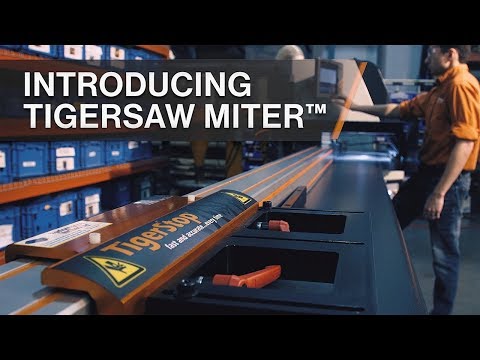 TigerSaw Miter
If you have been searching for a fully automated saw...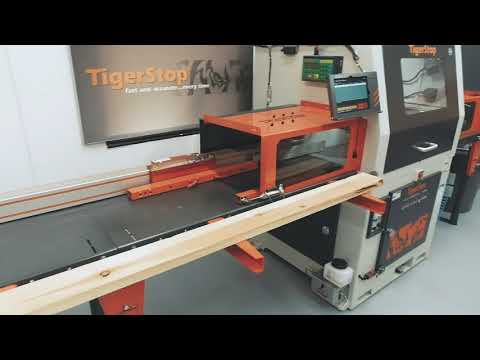 Cutting Mitered Parts With TigerSaw MiterXL
Quickly and accurately process mitered parts with TigerSaw MiterXL. Miter...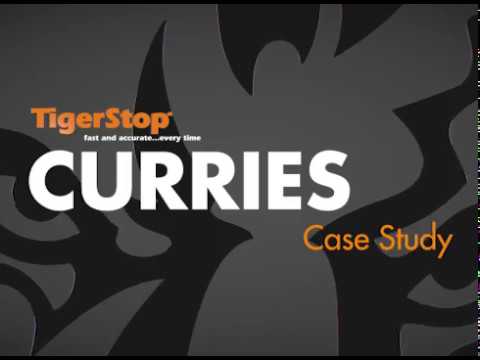 TigerStop for Aluminum Door Manufacturing
Leading steel and aluminum door manufacturer, CURRIES reduces set up...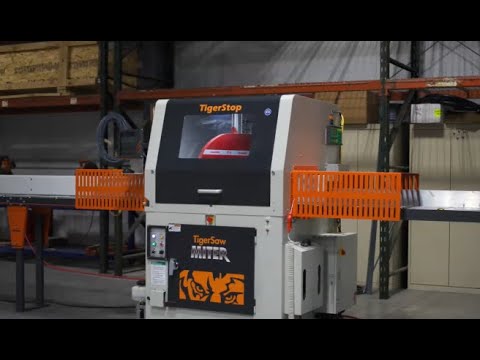 TigerSaw MiterXL
TigerSaw MiterXL is a fully automated push feeding miter saw...
TigerSaw Miter Photo Gallery
---
Your Industry, Your Materials, Our Solutions
From local makers to large manufacturing plants, woodworkers to aerospace engineers, we know your business depends on your operators being able to be fast and accurate… every time.