TigerSaw 1000™
TigerSaw 1000™ is a fully auto optimizing & push feeding saw system for fast and accurate cutting of wood and plastic materials that won't break the bank.
Features
Extensive Guarding + Fully Enclosed Blade
Adjustable Cutting Envelope: 6″x 6″ – 1″ x 16″ or 6″ OD Tube & Pipe
Dynamic Optimization™ Software
Advanced Dust Collection
Simulation & Statistics Reporting
Pack/Bundle Optimization
5 Piece Door Panel Optimization
Turn Random Width Parts Into Parts Ready for Glue Up
Flooring Optimization™ Software
Push Feed up to 2,100 lbs using HeavyDuty 2
TigerLink 6 Cut List Downloading software
Download Patterns
3-Phase Power: 208V, 230V, 480V
Fully Automatic
Crayon Defect Marking
10 HP Motor (7.5 kw/h)
Installation & Training Included
4-6 Week Lead Times or Less!
The Solutions Your Business Needs to Compete
5-Piece Door Panel Optimization
Turn random width parts into parts ready for glue up. Processing random width lumber for seamless panel glue-up is difficult and time consuming. Using TigerSaw 1000's Dynamic Optimization you can processes panel lists optimized for width.
Improved Yields
Dynamic Optimization™ software comes standard and automatically determines the best yield from your cut list. Improved material yield saves money and reduces waste. It allows operators to optimize perfectly, because TigerSaw 1000 is doing the math.
Drop A Grade Of Lumber With Crayon Defect Marking
Operators use a UV Crayon to mark defects in the material. TigerSaw 1000 cuts around those defects and optimizes the clear material while cutting parts. When defecting and optimizing in-house, shops can downgrade to lower cost lumber and retain the same high quality. See your lumber bill shrink with TigerSaw 1000.
Process Pack/Bundles
Cutting bundles dramatically increases throughput (i.e. cutting ten parts at once increases production tenfold). TigerSaw 1000's adjustable cutting envelope can accommodate pack sizes from 6in x 6in to 1in x 16in envelopes and the HeavyDuty 2 can push loads up to 2,100 lbs.
Tables
Style and Design Meet Durability
TigerSaw 1000 tables are pinch free and designed from cold rolled steel. Choose from a wide array of styles and depths including steel roller tables, plastic roller tables, and 10° tilted tables.
Learn More About Tables
Software
The Software You Need to Succeed
Dynamic Optimization™
Dynamic Optimization software gives you the best yield by determining the optimal cutting order from your parts list. Improved material yield saves money on raw material and reduces scrap waste. Pair Dynamic Optimization with a laser scanning and defecting pusher foot for even greater throughput.
Value Based Optimizing
This allows the operator to value items in a cut list individually. This will provide complete control over what's produced first in a cut list even if the most "valuable" pieces are shorter in length.
Flooring Optimization
The Flooring Optimization software upgrade for TigerTouch is perfect for manufacturers of flooring who need to ship finished products in very specific pallet sizes. Use with the Defect Scanning Pusher Foot to cut random lengths around defect marks. Flooring Optimization software replaces the need to purchase custom flooring packaging machines by allowing you to pre-define package lengths.
TigerTouch™
Any TigerStop can be enhanced with cutting edge touch screen control with TigerTouch. Using the TigerTouch touch screen controller, you can download an infinite number of cut lists, display three cut lists at a time for easy switching between work orders, and view statistics such as job status, remnants, remaining parts, and yield.
Grade Marking
TigerSaw 1000 with a Defect Scanning Pusher Foot allows you to process up to 3 different grades of material at the same time. Drawing either 2, 3, or 4 lines with a UV Crayon tells your TigerSaw 1000 which grade list to process. Drawing a single crayon line indicates the beginning of a knot.
Report Generation
Reports can be saved in .PDF file format. Custom reports are now possible if the customer's IT department can tap into our SQL database. TigerStop can provide database schema.
Simulation Tools
Every time a piece of material is run through the TigerSaw 2000, material information is stored, including material length and defects detected. This allows the operator to create an order and run the previously run material against the order off-line. The operator will now know his yields before ever running a stick of material. This greatly assists in job costing.
Dynamic Pack Optimization
Dynamic Pack Optimization gives you the best yield by determining the optimal cutting order from your parts list. Improved material yield saves money on raw material and reduces scrap waste. It allows operators to optimize perfectly, because TigerSaw is doing the math.
Cascading Cut Lists
Cascading Cut Lists, runs pattern, push feed, or set point cut lists sequentially, or in a cascading effect, until the entire job is finished. It can be used for processing metal, wood, composites, or plastic.
Accessories
The Right Tool For Any Job
Configure your TigerSaw 1000 with an array of accessories including saw blades, various pusher foots, clamping, and light curtains. You can even attach an AutoLoader Automatic Infeed Station for an increase in productivity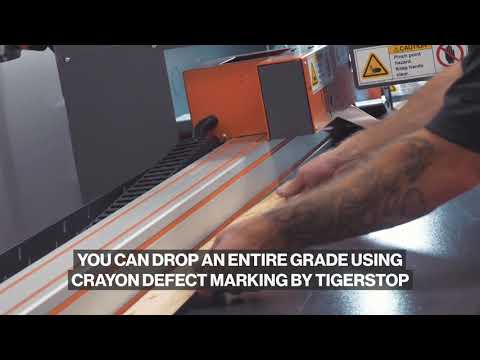 How to Save Money on Your Lumber Bill
Using TigerSaw 1000's crayon defect marking you can quickly remove...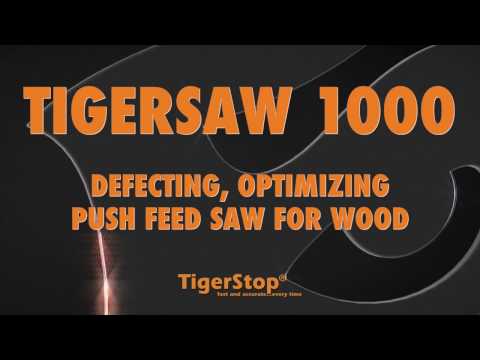 TigerSaw 1000
TigerSaw 1000™ is the perfect automated push feed saw station...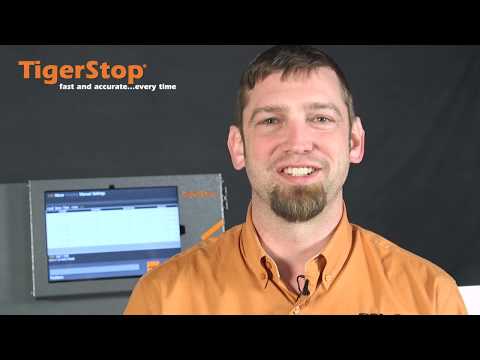 TigerTouch
Any TigerStop can be controlled using our patented touch screen...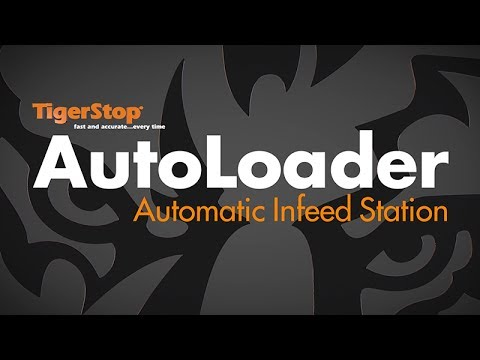 AutoLoader
TigerStop's AutoLoader is an Automatic Infeed Station that greatly increases...
TigerSaw 1000 Photo Gallery
---
Your Industry, Your Materials, Our Solutions
From local makers to large manufacturing plants, woodworkers to aerospace engineers, we know your business depends on your operators being able to be fast and accurate… every time.