HeavyDuty 2™
HeavyDuty 2 can push, pull, and position up to 2,100 lbs of your heaviest material, shift after shift.

Features
Best in class material optimization with
Dynamic Optimization™ software upgrade
Pack/bundle list capability using Dynamic
Pack Optimization™ software upgrade
Push feed up to 2,1000 lbs with roller tables
TigerLink 6 Cut List Downloading software upgrade
Built For Your Heaviest Loads
Speed
Measuring and marking material, as well as adjusting manual fences on your ironworker, band saw, drill, or other machine tool, can take anywhere from 25-60 seconds per piece. HeavyDuty 2 takes set up time down to zero seconds.
Accuracy
HeavyDuty 2 positions material to +/- .008" (.2mm), giving you perfectly cut parts…every time. Costly rework will be a thing of the past.
Rack and Pinion
HeavyDuty 2 uses a rack and pinion drive that provides a repeatable accuracy of +/- .008" (.2 mm) providing superior pushing force for your heaviest jobs.
Easy to Operate
An unskilled operator can be trained to use a HeavyDuty 2 to push, pull, and position material in under 10 minutes.
Adaptability
HeavyDuty 2 can adapt to virtually any machine tool, new or old. Attach it to your bandsaw, drill, ironworker, shear, punch, press, upcut saw, or other tool of your choice, for increased productivity and accuracy.
         Tables
Durability You Can Trust
HeavyDuty 2 tables are pinch free and made out of cold rolled steel. Choose from a wide array of styles and depths including steel roller tables, plastic roller tables, and 10° tilted tables. Seamlessly push feed your heaviest loads.
Learn More About Tables
Software
Both Brain and Brawn
You can add intelligent, productivity increasing software to your HeavyDuty 2 at any time. Raw material costs may be on the rise, but your internal costs don't have to be. Increase yield and reduce scrap waste with TigerStop's nesting software, Dynamic Optimization.
TigerTouch™
Any TigerStop can be enhanced with cutting edge touch screen control with TigerTouch. Using the TigerTouch touch screen controller, you can download an infinite number of cut lists, display three cut lists at a time for easy switching between work orders, and view statistics such as job status, remnants, remaining parts, and yield.
TigerSet
The TigerSet software upgrade opens up a communication port on your TigerStop so you can use a PC, PLC or Barcode Scanner to control your TigerStop systems. You can also create your own code using TigerStopSDK, TigerStop's open source software development kit, if you have TigerSet.
Backboard Optimization
Backboard Optimization™ is a process developed and patented by TigerStop which utilizes Dynamic Optimization software in conjunction with a backboard fence and ruler.
Dynamic Optimization™
Dynamic Optimization software gives you the best yield by determining the optimal cutting order from your parts list. Improved material yield saves money on raw material and reduces scrap waste. Pair Dynamic Optimization with a laser scanning and defecting pusher foot for even greater throughput.
Dynamic Pack Optimization
Dynamic Pack Optimization gives you the best yield by determining the optimal cutting order from your parts list. Improved material yield saves money on raw material and reduces scrap waste. It allows operators to optimize perfectly, because TigerSaw is doing the math.
Flooring Optimization
The Flooring Optimization software upgrade for TigerTouch is perfect for manufacturers of flooring who need to ship finished products in very specific pallet sizes. Use with the Defect Scanning Pusher Foot to cut random lengths around defect marks. Flooring Optimization software replaces the need to purchase custom flooring packaging machines by allowing you to pre-define package lengths.
Accessories
The Flexibility You Need
Add an array of pushers and accessories to your HeavyDuty 2 to increase productivity. Get the most out of your machine.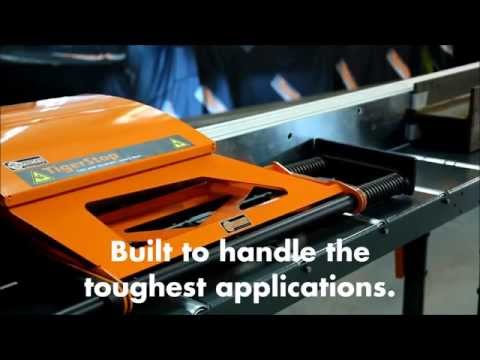 HeavyDuty 2
TigerStop's HeavyDuty 2 is built for your heaviest material loads....
HeavyDuty 2 Photo Gallery
---
Your Industry, Your Materials, Our Solutions
From local makers to large manufacturing plants, woodworkers to aerospace engineers, we know your business depends on your operators being able to be fast and accurate… every time.